hello all! so sorry i haven't been able to do an Africa trog lately. i've been house/pet sitting, so between that and caring for our own new dog (pics soon) i haven't had time to upload more pics or do more writing. hopefully i'll get a chance in the next few days. i hope you're all still interested by then! lol!
I did not take many pictures of the villages or the people. Tanzania has strict rules on what you can and can't take pictures of, especially governmental buildings, and it's considered rude to take people's pictures without their permission. So, I figured better safe than sorry and kept my camera stowed away for the most part. The interesting thing about the villages is that as you drive by homes and schools scores and scores of children will run up to the road holding their hands out in the hopes that you'll give them money and yelling "Mzunga, mzumga!" which means "white people." The adults seemed to regard us much more warily as they walked by in their beautifuly colored clothing. I especially loved how women carried everything on their heads from buckets of water to books. Most of the houses we passed were thatched roofed and if they were concrete or brick they were completely open with no doors and the windows had no glass in them.
After a long drive we arrived at our nyumba and were very grateful for a little siesta before going on a nature walk. Our guide was one of the park rangers who carried a bow and arrow to protect us in case any animals were around. We didn't see any animals except for ostriches but we did see some animal tracks and enjoyed the sunset.
(
Nature walk
Collapse
)
There are some major differences between being in the northern section of the Serengeti and being in the central section of the Serengeti. In north Serengeti we were the only people around. We literally didn't see anyone except for the park rangers and even at the camp we were the only people there. Central Serengeti is where all the tourists go. While we were the only people in the north in the central region we frequently had to compete with other trucks and tour groups for the best view of an animal. Another difference is that in the north you are allowed to drive anywhere, if we saw an animal in the distance we could drive off the road and get as close as possible to it, but in the cenral region law strictly prohibits driving off the road and you could be fined big bucks for doing so. We also had to share our camp with thirty other people which sucked but we weren't there much so it didn't really matter. Despite having to share our space and animal viewing it didn't take much away from the awe struck moments of being near the animals.
(
In the two days we were in central Serengeti we saw..
Collapse
)
We also did a hot air balloon safari while in central Serengeti but i think that deserves its own entry since it involves so much to explain the process of flying in a hot air balloon.
Please check out all my pics from central Serengeti since i've only posted a small number of them here.
http://www.flickr.com/photos/11029015@N05/sets/72157605551042623/
After two days in the northern part of the Serengeti we reluctanly left the amazing staff at nyumba and headed towards the central area of the Serengeti. In order to get there we had to venture out of the park and into areas owned by the villages. There was a major difference between the roads in the park and the roads in the villages. We spent the seventy mile journey feeling like our kidneys were going to vibrate out of our bodies because the roads were so bumpy. This is another thing to note about Tanzania, 80% of the roads are not paved.
Thomson Safaris
, gives to their "classic camps." We stayed at three different Nyumbas: the Kogakuria Nyumba in northern Serengeti, one in central Serengeti, and one at the Ngorongoro Crater.
Every tent consists of a sleeping area, or bedroom if you prefer, and a bathroom. The tent is completly open with curains and flaps for privacy. The entrance must be kept zipped at all times to keep out bugs. Each tent had two small solar panels attached to the roof of the tent. These would power the tiny LED lights that would illuminate the tent in the late afternoon and at night. Really they jgave off just enough light to see by so much of the tent is dark or in shadow during the night. There is no running water, so every tent is provided with two jugs of water and a wash basin that drains into a bucket. The toilet is chemical and requires a little extra effort because you have to pump the chemicals after every use and slide the trap closed. Every day one of the staff members would empty the bucket and the toilet, which i'm guessing was the least popular job. For showers we had to tell the staff when we wanted to take a shower. They would then bring hot water that had been boiling in the kitchen all day and put it into a bucket. You would then pull a lever and hot water would come out of a normal showerhead. It was a bit tricky getting the timing right since there was obviously a limited amount of water. The trick was to only turn the water on when you were rinsing yourself. I became quite good at taking a three minute shower (something that would shock certain members of my family since i love long showers). In the mornings we would be awakened by one of the staff members saying "Jambo, jambo!" ("Hello, hello!") outside of our tents. They would leave a thermos of hot water outside our "door" so that we could wash our faces and get ready for the day.
(
My humble nyumba
Collapse
)
Each camp also had a dining area. At the Kogakuria Nyumba and the Ngorongoro Nyumba this was just a large tent, but at the Central Serengeti camp it was a little more elaborate with a permanent structure with a thatched roof. At each camp there were eleven staff members to serve our every need. Before every meal there was a staff member who would pour soapy water on our hands and then warm water to rinse them. The food was amazing! Fresh, unprocessed meats and vegetables served in a gourmet style. I can't begin to describe nice it was to eat food that wasn't loaded with hormones and chemicals. Dinner usually consisted of some kind of meat, usually beef or lamb, a variety of cooked vegetables, delicious fresh bread, and a baked desert. We went on a tour of the kitchen at the Kogakuria Nyumba to meet the wondeful chefs. Everything is cooked on charcoal grills or in a charcoal oven, were they put charcoals on the top and bottom of the oven to heat it. It was an amazing experience to realize that such wonderful food was being in such a seemingly primitive way campared to the appliances we have here in the States.
As you can tell this wasn't exactly roughing it. The staffs were all wonderful and helpful. I still expect someone to come to my door every morning with thermos of hot water and singing, "Jambo, jambo!" I thought I would be scared sleeping in a tent by myself out in the middle of the Serengeti and Ngorongoro but I felt quite safe. There was always a tracker or two at every camp who patrolled all night to make sure no animals were at the camp or about to stampede through your tent. Every night we fell asleep to an assortment of animal noises. Mostly we heard hyenas, zebras, and birds, but in the Central Serengeti Nyumba we were also treated to the sounds of lions roaring through the night.
The lovely staff at Kogakuria Nyumba
Nyumba is the Swahili word for home. Nyumba is also the name that the tour company,
(
On the first day of game viewing we saw..
Collapse
)
These are just a small number of the animals that we saw. There was a large number of animals that we saw that were very quick to run away, such as dik diks, warthogs, mongooses, klipspringers, and a large variety of birds, which made it hard to get pics of them. Mostly I just wanted to watch everything and not experience everything solely through the screen on my digital camera.
Our itinerary was a little different every day. On our first day we did a game drive in the morning after landing, then we went to our beautiful camp (more on that later) for lunch, had a short siesta, went for another game drive in the late afternoon, and then dinner at the camp by candlelight. The next day, during our venture through the grasslands, we enjoyed a lovely picnic lunch under a sausage tree with wildebeest grazing only a few feet away.
(
Woodlands vs Grasslands
Collapse
)
In order to cross into the grasslands we had to cross the Mara River. Once we were on the other side we were suprised by our very first elephant sighting.
(
Elephants!
Collapse
)
(
Lions, hyenas, and buffalo.. oh my!
Collapse
)
After a long day of game viewing it was nice to come back to the camp and have this as our view.
For all pics from the Northern Serengeti go
here
.
As we loaded ourselves into the Land Rovers for our first game drive, after initially landing in the Serengeti, we soon discovered that there were more animals to see and find than we could have possibley imagined.
The views flying over Tanzania were breathtaking! Just miles and miles of land stretching for as far as you could see with absolutely no gigantic buildings to disrupt the landscape. I'm sure their were huts and homes down there but they were few and far between. There seemed to be every type of landscape imaginable as we passed over Tanzania.. plains, hills, mountains (unfortunately it was too cloudy to see Mt. Kilimanjaro), volcanos, plateaus, grasslands, and woodlands.
(
Tanzania at 10,000 feet
Collapse
)
While I was taking in all these views i was both amazed and disappointed. For some reason I thought I would see herds of animals running around down there not realizing how silly it was to expect to see any animal from 10,000 feet in the air. As we came in for a landing I was no longer disappointed though. As we got closer and closer to the ground we realized we were approaching a veritible eden of wild animals. The pilots had to buzz the landing strip because there was zebras on the runway (that certainly never happens in America!), so as we circled around for another go at landing we saw hippos, giraffes, zebras, and gazelles.
(
Landing in the Serengeti
Collapse
)
Once we landed we were greeted by our guides James, head guide, and Simon, assistant guide. We were then taken over to the airport/park ranger compound where we were introduced to our first "Bush toilet". Don't worry, I'm sparing you a pic of the joys of the dark hole one must squat over inside what appears to be a storage shed but is really just an outhouse. We were then informed of the rules of game viewing.. you know like don't wander off by yourself because you might get killed, don't try to touch the animals because they will kill you, don't yell at the animals because they will kill you... fun stuff like that. We then loaded our stuff into the Land Rovers and it was off to see the animals!
How we viewed the animals throughout our stay in Tanzania
Next blog... the animals we saw in the northern Serengeti.
After our arrival in Tanzania we had an all too short night of sleep. We woke up extremely early so we could make the journey from our lodge to the Arusha Airport in order to catch a flight to the Serengeti. This flight probably had the most anxiety surrounding it with certain members of my family because we knew the plane would be an itty bitty plane. We were right. It was tiny but not nearly as tiny as we had thought. We piled into the twelve seat plane with our two South African pilots and took off for the Serengeti.
(
Flying to Tanzania
Collapse
)
(
Landing in Kilimanjaro and driving to the Lodge
Collapse
)
(
The Lodge
Collapse
)
These first few hours in the late hours of the night were our introduction to Tanzania. It was a bit overwhelming but arriving in a completely new country always is. And having a drink to calm your nerves always helps.
The Coleman/Cupp/Lester Clan enjoying a drink at the Kikagano Lodge after 20+ hours of travelling and our initial introduction of Tanzania.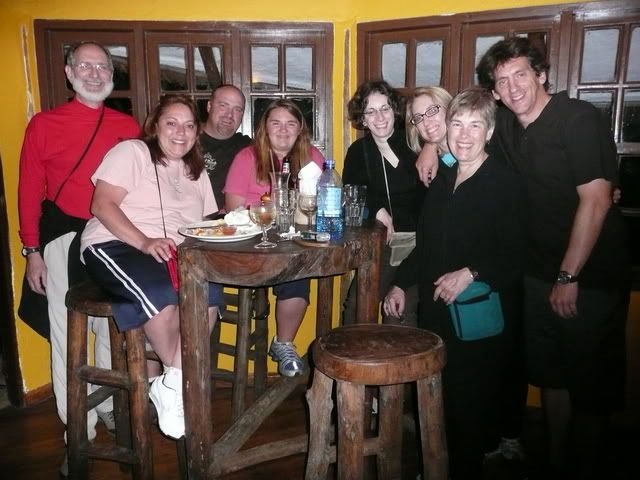 from left to right: my dad Larry, my sister Angie, my brother-in-law Tommy, my niece Kori, me (obviously), my sister Erin, my mom Betty, and my sister Erin's boyfriend Danny.
Current Mood:

tired