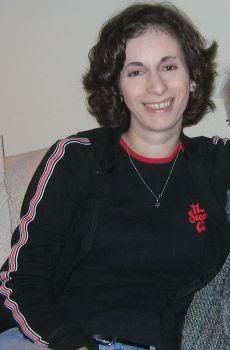 Hi everyone! My name will appear as Alexandra on the discussion board but I usually go by Ali (pronounced like
alley
). I was born and raised in Knoxville, TN. After graduating high school I moved around to a few different places (Greensboro, NC; Miami; Asheville, NC) and tried my hand at my first career choice, which was massage therapy. I eventually wound up settling in Toledo, OH where I have been living for the past eight years.
I received an associate's degree in Liberal Arts from Owens Community College in 2006 and a bachelor's degree in English from the University of Toledo in 2008. I have worked as a Bookseller at Barnes and Noble, in a variety of stores, for ten years now. I love to write, and I love reading and books. My favorite authors are Kurt Vonnegut and Toni Morrison.
My love of books is what has lead me to pursue an MLIS. While I enjoy my job as a bookseller, I would like to take those skills a step farther and learn how to incorporate research and technology in order to help people access information and learning. I am also interested in the preservation of information because I believe it is essential to our culture. I am leaning heavily towards becoming an Archivist because of my interest in information preservation. Although, I sometimes think I should just work in a museum because I love spending hours and hours in them. However, I am also interested in Academic Librarianship, because I believe it would allow me to incorporate my background in the humanities and I enjoy being in an academic atmosphere.
Since I am undecided about which career I would like to pursue, I hope that this class will introduce me to all aspects of LIS so that I can make an informed decision about which career is right for me. I also hope to get out of this class a solid foundation from which to build the rest of my studies.
I look forward to getting to know all of you! You can follow me on
Facebook
or
Twitter
.
I found out today that an old friend of mine was in Haiti when the earthquake happened and she is still missing. She works for the CDC and was doing work in Haiti on AIDS. She was staying at the Hotel Montana where they are still pulling survivors out of the rubble. Please keep her and her family in your thoughts, as well as all those who are either dead or still missing.
i am absolutely flabbergasted. i'm somewhere between jumping up and down and crying tears of joy! as i write this john mccain is giving his concession speech. i'm just overwhelmed with happiness and shock. BARACK OBAMA IS OUR NEXT PRESIDENT!!!!!!!!!!!!!!!!!!!!!!!!!!!!!!!


thanks to my week in knoxville i was inspired to go to the local unitarian church. they've just moved to a new building and have a new minister. i love the new minister. i didn't like the last one because he was a little too "onward christian soldiers." not that i mind people being that way it's just not what i look for in my unitarian minister. anyway, i'm really glad i went because it was positive and lovely experience. a very sweet older woman picked me out as being new and insisted that i stay for coffee hour so she could introduce me to people. she was unbelievably sweet. it was so nice to have a couple of hours of positivity when i'm surrounded by negativity at work and at home. in a serendipitous little moment, when i got home i was looking through the want ads at job listings and i noticed that the church is hiring for an office administrator. sweet! i'm going to see if i can use some of my UU connections and see if i can get a job there.

in other news... i'm disappointed that lack of finances are preventing me from going to a "getting into publishing" conference in NYC in september. i'm trying really hard to somehow get my foot in the door in publishing and this would have been a really great opportunity. i really just need a sugar daddy so i can have someone finance all this so i can do whatever i want. i think once the olympics are over with i'm going to stake out the aquatic center in ann arbor in the hopes that michael phelps still trains there. i'm sure he wouldn't mind giving me a little of that $5 million he gets in endorsement deals. :)
i've been back in toledo for a few days but i haven't felt motivated to post. plus, i've been obsessively watching the olympics. my trip to knoxville went surprisingly well. like i said before, it was so wonderful to be surrounded by friends and my former community. it was also really nice to spend time with my sister, my niece, and my brother-in-law. my sis and i had some good conversations and some not so good conversations (that's par for the course), but the good definitely out weighed the bad. my niece is majorly going through the pre-teen "every adult is stupid" phase. i took a great pic of her looking mopey, her usual look these days, that i must post here because it's hysterical.
Current Mood:

tired

Current Music:

women's synchronized diving
after partying into the wee hours of the night saturday night, i went to the reconsecration ceremony at the church i grew up in yesterday. it was so packed my friend and i couldn't get into the sanctuary but they had over flow rooms in several different places so we were able to watch the service on a big screen tv and still be able to experience the feeling of being with the community. the speeches by various ministers who have been leaders at the church were amazing. the current minister, Chris Buice, did a wonderful job making sure the children understood that the church was still a safe place to be and that the adults in the congregation would always protect them. he also said that the shooters intention was to destroy the unitarian community but what he really did was make the community stronger. not only that but the entire religious community in knoxville has come out in support of the church proving that we are all one not just baptists, muslims, and catholics and we are all connected. i'm so glad i went. it really made me feel better and i got to see and hug a lot of people who were really important to me when i was a kid.
you can watch the video of the news story about the service if you want
. i really wish they had included part of Rev. Lynn Strauss' (former minister of the church and Taryn's mom) speech when she said that the Tennessee Valley Unitarian Universalist Church community is so strong and so wonderful that no matter where your life takes you, you always take a piece of TVUUC with you. i definitely feel that way.
despite it being a hard weekend physically and emotionally i'm so glad i did both the wedding and the service at TVUUC. it reminded me that despite the fact that i might live far away from my friends and i might live far away from TVUUC i'm still part of a really amazing community. it's inspired me and given me a clearer idea of the things i want to do in my life. it's also inspired me to start working harder on forming my own community in my own town whether that be toledo or where ever i wind up going.
i am emotionally and physically exhausted after a very long weekend. i arrived in knoxville late thursday night and was woken up at eight something in the morning by my friend taryn calling me to arrange what time i should be at the site to help set up for our friend beth's wedding. it was a 100+ degrees heat index all weekend and we worked our asses off. and of course the wedding was outside so most of the work had to be done outside. i swear i've never sweat so much in my entire life. despite the heat i'm really glad i did help out. it allowed me to see more of beth and it allowed me to spend a lot of time with taryn. taryn and beth were my best friends in high school and despite the fact that we don't talk as much as we'd like to these days we still have a really strong connection. i went to taryn's wedding a couple of years ago but didn't get to spend much time together. the whole wedding was awkward and fun at the same time. it was cool to reconnect with people i haven't seen in ages and it was incredibly weird trying to hang out with all of beth's friends from denver. i've never been very good at small talk so meeting new people is always strange for me. overall, though, i had a really great time. i even went back yesterday afternoon to help clean up and give beth one last hug as she and her hubby headed back to denver and then off to their honeymoon in mexico.
(
Iraqwi Tribe
Collapse
)
(
Karatu School
Collapse
)
(
Gibbs Farm
Collapse
)
For all of my pictures of the Iraqwi cultural visit, the school, and Gibbs farm go
here
.
On the eighth day of our trip we reluctantly left the Ngorongoro Crater. Unfortunately, it was rainy and extremely misty so we couldn't see the Crater as we drove out of the Ngorongoro Conservation area, but at least the baboons came out to bid us a fond farewell as we drove out of the park.
What a welcome we received! We were greeted by the chief and his son, who gave us the tour of the village. The men and women savg a welcome song for us and danced. The men dance by jumping very high in the air while the women show their appreciation of the men's dancing and singing by shrugging their shoulders which is actually a full body movement. The allowed us to join in and gave us their own ornate necklaces to wear. Both the men and women wear jewelry that is either beaded or made from cow bones. The women wear these huge beaded necklaces that fit around their necks and extend outwards.
Welcoming us to the village.
Maasai villagers welcoming us
Maasai women showing my mom and sisters how to dance. They had given them their necklaces to wear as well.
Maasai village
I got up there and danced too but obviously i couldn't film that while i was doing it. So here's a pic of me wearing a Maasai necklace.
After the welcome song we were split into two groups and were given a tour of their huts. The huts have a thatched roof and the walls are made of cow dung, which is water proof and lasts for ten years. The inside of a hut consists of a "room" for the wife, one for the husband, and one for the children. The rooms are really just sleeping spaces with a mattress made of cowhide. In the center of the hut is the fire which serves as the cooking and eating area. The huts are extremely small and short with only a few holes in the wall for ventillation. Because it was so dark inside the hut I wasn't able to get very good pictures of the inside.
Sleeping area inside a hut
Women outside hut chopping wood
The Maasai men can have many wives but once he leaves a wife to live with another she must solely care for their children and build the hut it needs to be rebuilt. The Maasai eat twice a day. In the morning they drink a mixture of milk and cow's blood that is extracted by piercing the vein in the neck so the can still live. They also eat in the evening either of a porridge made from millet and/or the meat from their livestock. Cows are extremely important in Maasai culture. They believe that God says that every cow in the world belongs to them so if you are a farmer or another tribe and you have cows they will steal them. They utilize every part of the cow including its blood, milk, meat, bones, and dung.
After the tour of the hut we were allowed or peruse a large selection of crafts the village people had made such as neclaces, bracelets, clubs, and shields. After we left I realized they had intentionally seperated us from each other so they could milk each of us for our money. The prices they were asking for the necklaces and bracelets were obviously marked way, way up, but it turns out i'm a pretty good bargainer so i talked them way down to half price or less on everything i wanted. I was surrounded by an entire family while I shopped. I quickly learned not to touch the merchandise because they would then encourge me to buy it by taking it off the "rack" and putting it on me. I wound up buying a ton of stuff. The family was so thrilled that they gave me a bunch of stuff for free and kept exclaiming in maasai and touching me on the shoulders. The son of the family, the only one who spoke english, was so thrilled that he asked me for my email address. Yes, someone who lives in a hut made of cow dung asked me for my email address. For all their primitive customs the Maasai have adapted to the modern world. Many of them were carrying cellphones and most of the young men go to university, which is why the one guy had an email address.
My whole shopping experience had taken so long that my family nearly forgot about me and almost left me. Thankfully, my sister's boyfriend remembered me or else i would have wound up spending the night with the Maasai. Apparently, it was quite a sight as I emerged from the village surrounded by a whole family who were so thrilled that I had purchased so much stuff that they probably would have adopted me. My family now constantly teases me about how they're going to have to marry me off to the Maasai. According to our guide James, because of my very fair skin and wide hips my bride price would be 75 to 150 cattle. Not bad! I think my parents might just become cattle barrens.
For the rest of my pictures of the Maasai village..
http://www.flickr.com/photos/11029015@N05/sets/72157605748345890/#
The Maasai Village deserves its own entry because it was such a strange and interesting experience (not like everything else on this hasn't been strange and interesting). On our second day at the Ngorongoro Crater we drove just outside the park to visit a Maasai village, or boma.
Current Mood:

tired
The drive out of the Serengeti was very dry and far more desert like than anything we had experienced thus far. I guess this is what they mean when they call Tanzania an equatorial climate.
(
Leaving the Serengeti
Collapse
)
(
Oldupai Gorge
Collapse
)
After Oldupai Gorge we headed towards the Ngorongoro Crater. On the way we saw giraffes eating thorny bushes. Sorry, i can't remember the name of the plant.
Ngorongoro Crater is really hard to describe. Our guides explained it to us before we arrived but it's nearly impossible to get a good mental image of it if you haven't seen it because it's unlike anything we'd ever seen before. The Crater was formed by a gigantic volcano, the size of Kilimanjaro, which became inactive millions of years ago and collapsed. When the cone of the volcano collapsed an sunk it formed this gigantic crater.
Much like the Serengeti it is a protected park with rangers and trackers. Once you pass through the gates to the park you begin the descent down the crater wall. As we drove over the crest of the ridge of the crater we were astonished by the beauty of it. The entire floor is covered with rich green grass. The walls are even greanner with trees and undulating ridges. There is a large lake that is tinted pink by the hundreds of flamingos in the water. I had imagined it would be much smaller and just wall to wall animals, but it was actually huge and much like the Serengeti we had to actively search for the animals. Some of the animals do live there year round, like the nearly extinct black rhino, but most of the animals, like zebra and wildebeest, do migrate out of the Crater. Once we got down to the Crater floor I realized that most of the grass is tall but not as brown and dry as in the Serengeti. Not only was there a wide expanse of nothing but grass there was also a forest on one side of the Crater. I don't think my pictures do the beauty of the Crater justice but hopefully they'll give you an idea.
(
Ngorongoro Crater
Collapse
)
We saw tons and tons of elephants in the Crater. I think we saw thirty in all, which was suprising since we didn't expect to see many elephants on this trip at all. We also saw tons and tons of zebras and wildebeet. Plus, we saw baboons, storks, geese, hippos, elands, and lions. Since I've already shown many of these animals I won't post them again but you can see all of my pics of the Ngorongoro Crater
here
.
Next up is our visit to a Maasai village just outside of the Ngorongoro park.
After our balloon safari and full english breakfast was over with we were taken to a spot to meet back up with our guides and my sister, niece, and brother-in-law. We loaded into the Land Rovers and headed out of the Serengeti and into the Ngorongoro Highlands. I was sad to leave the Serengeti because it was such an amazing experience and also because i didn't know what to expect from the Ngorongoro Crater since I didn't know much about it.
Current Mood:

tired
These videos are from the Central Serengeti leg of our trip.
(
Videos galore..
Collapse
)
For a reminder of the stories behind the videos go to the
Central Serengeti blog
DISCLAIMER: The shakey camera work is due to me being attacked by tse tse flies while i was filming. If you've never been bitten by a tse tse fly it hurts like a mother because they really chomp on you to get your blood out. In fact, it hurts so much you'll do anything to keep them from biting you including screwing up your video recording.
In the remaining blogs there will be videos and hopefully I will finally be able to wrap up my Africa Trog this weekend. Thanks for the patience for those of you who are still reading.
I have been having major difficulty in getting my videos uploaded from trip to websites. Apparently my laptop does not like the format that my digital camera records them in so i had to transfer them to our desktop and then they wouldn't work on the sites i uploaded them to... The point is that it's been a pain in the ass but at least i've finally gotten it all sorted out.
The balloon flight itself was a strange and very cool experience. I had imagined it being like the Wizard of Oz were you just step into the basket and you immediately take flight but this was definitely not what happened. The basket has eight compartments that fit two people each. Before take off the basket lies on it's side on the ground. The way the compartments work there is a row "on top" and the people who the captain assigns to be in those have to climb up and into their compartments. We, however, were on the bottom row of compartments. We had to slide into the basket until our butts rested on a ledge/seat, it's like being in the sitting position but you're really lying on your back. As the captain fills the balloon with hot air you hold onto a rope for dear life while the balloon attempts to right itself. This was a rather jarring but fun experience. Once the balloon finally gets upright, and the basket along with it, the captain gives the okay to stand up. I was right next to the captain so I had the joy of having the hot air blasted on my head throughout the flight, which was nerve racking but i couldn't complain because it was freezing. The flight was surrealy and way too short. The winds ere strong so we were only in the air for thirty minutes. Still, those thiryt minutes floating abouve the Serengeti were like something that only happens in fantasy novels. For once the lions and hyenas couldn't hide from us.
(
We saw...
Collapse
)
(
Landing, champagne, and breakfast
Collapse
)
After the breakfast we reluctantly began the drive out of the Serengeti.
Our last views of the Serengeti as we drove towards Oldapai Gorge and the Ngorongoro Crater.
Next up... Ngorongoro Crater, Oldapai Gorge, and the Maasai village
Jambo, jambo (our wake up call) came at four in the morning and by 4:30 my parents, my sister, her boyfriend, and i were loaded into a Land Rover and heading towards the launch site for our balloon safari. While getting up at four in the morning sucks the benefit is, at least when you're in the Serengeti, is that you get to see some of the noctornal animals. On the two hour drive to the launch site we saw lions, jackals, bat eared foxes, and hyenas. Unfortunately, due to another vehicle having several flat tires we did not make it the launch site before the sun rose, but even watching the sun rise over the Serengeti from the ground isn't too shabby.